Types of toilet seat covers:
We have listed all types of toilet seat cover here, with the detailed explanation about the type. In market you can find a lot of varieties in seat covers. Each one has their own con and pros. In this post you can find the detailed explanation about that type of toilet seat covers according to the shape, materials used, Closing type and etc. Your toilet may be Floor mount Water closet (WC), Wall hung water closet, two piece water closet or a one piece water closet. Now lots of varieties coming in seat covers to satisfy the need of customers. Some customers ready to pay if they can get a better quality & functionality. So toilet seat cover also getting continues improvements like any other consumer items in market. Once you read this article you will get enough knowledge about the types of toilets seat covers. Now we will start to classify the toilet seat covers. You can also about all types of toilets here.
Types of Toilet Seat cover.
Toilet Seat Cover classification According to the shape of the toilet
Round: The seat cover will be on round shape same as the toilet shape.
Elongated: This kind of seat cover will be on elongated shape same like the toilet shape.
Rectangular or square: This kind of seat cover will be Rectangular or Square shape with corner rounded or sharp edges.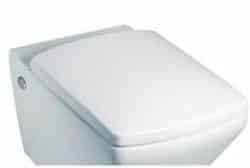 As per the name indicates the seat covers are in respective shape. Even though the shape is same you need to measure the toilet to find the exact dimension seat cover required. Always remember you must always choose the design of the toilet seat cover according to the toilet design you have. You can't use a different design seat cover for your toilet. So choosing this is not in your hand.
Classification according to the materials used to make seat covers
Toilet seat covers are made using two types of materials. They are,
Plastic seat cover:
Polypropylene: It is used in the production of toilet seat covers. These seat cover can stand up to 10,000 usages. The weight of this kind of seat cover lies in between 800gms to 1.4 Kgs. This is the most used in industry.
Urea formaldehyde: It produces a high-quality toilet seat cover which can withstand up to 1,00,000 usages which is 10x more than the polypropylene toilet seat cover life cycle. The weight of the urea formaldehyde seat cover lies between 2.0 Kgs to 3.0 Kgs.
Wood seat cover:
Compressed wood is used in the toilet seat cover production. Wood made seat covers will provide solid and comfortable to sit on the toilet. These seat cover have nice finishing and look. This type costs more than other toilet seat covers but gives the best look you can find. Due to the high price and less requirement, it is difficult to get this seat cover for your model of toilet. Normally you can find round shape model wood seat and cover but it is difficult to find an elongated, square or rectangular shape for your matching toilet.
Classification according to the Closing functionality of Seat Covers
Have you ever noticed that some of seat & cover fall down slowly but some are fall down heavily with sound? Have you wondered why? The reason is that toilet seats are designed that way. So why not make all the seat covers to fall slow without sound, why make a seat cover tat falls ard ad makes sound. Here comes the price factor, normally price of soft close seat cover is nearly twice as the rate as the hard close seat cover. So now it is consumer choice to choose between these two. Toilet seat covers are classified into two types based on closing functionality.
They are,
Soft close or slow close: Seat and cover will fall slow when let them fall. Comparatively high price.
Hard close: Seat and cover will fall with force and make noise during fall on toilet. Comparatively Low price.
Classification according to the automation of seat covers:
Electrical seat covers.
A new type of toilet seat cover that requires electrical power comes with a remote control. Once the seat cover installed the cover will open automatically when anybody approaches using build-in sensor. It is very useful for physically disabled. It also has some extra functionality other than just a seat cover. Some of the functionalities are automatic washing (posterior washing, pulsating, aerated washing, feminine wash, oscillating wash & turbo wash). You can able to adjust the position of the nozzle and the pressure of water using the UV remote control given with the seat cover. The nozzle has functionality of self-cleaning after every washing. The seat cover auto deodorizes after every use. It has an inbuilt urine splash guard and a water filter. You can also use warm air functionality in the seat which makes the temperature inside the bowl controllable. You can set the desired temperature in the bowl. The seat will take care of it. This seat covers comes with functionality you never imagine. But it is up to you to decide that these features are required for your needs. You may find it difficult to get this in market due to the less requirement of this seat cover. It is better to buy this online than searching it all over the stores.
Manual seat covers.
Forget every function you have just read above in electrical seat cover section. The manual seat cover is a just an ordinary seat and cover you will find in every day. You will just open the cover and use it. There is no automatic opening, warm water, automatic clean and auto deodorization.
Other than this, toilet seat covers are available in lot of colour. Some of the popular colours of seat covers other than white are ivory, cherry, majeneto, ocean blue & rose.
You may be looking to change your seat cover in near future, to get an exact seat cover match for your toilets learn how to measure your toilet for matching seat cover. Here is the link to buy toilet seat cover online.
Conclusion:
So now you have learned about the types of toilets seat & covers. We are experts in the field, If you have any doubt, you can let us know in the below comment section which we will answer as soon as possible. And if you like this information to be shared, use below sharing buttons to share this article.