We have listed types of wash basins here all that you can find in the market. Wash basin are made in different design (model), materials and size according to the application and requirement. They are used in all domestic and industrial purpose. Sink is also a type of washbasin. If you are planning to buy a wash basin for your home or office then find below all the washbasins you can find in market. Then decide for yourself which one is best for you.
Wash basin Types Depending upon the material:
Ceramic Wash basin.

Acrylic Washbasin.

Stainless steel Washbasin.
Normally all washbasins are made using ceramic material only because of the durability and Strength. But nowadays Acrylic plastic, Stainless steel also used to produce washbasin. But acrylic wash basins will not have advantages like ceramic washbasin only the aesthetic appearance will be different which can't be achieved by ceramic material. And also only tabletop washbasin will be made using the acrylic material because of the strength issue. Normally stainless steel is cheaper than the ceramic washbasin and lite in weight.
Types of Washbasin Based on Design / Models:
In this section we try to cover all the type of washbasin you can find in anywhere. Here we use design to classify the kind of wash basin. In this section we will discuss only about ceramic wash basins.
Integrated pedestal:
Have you seen this kind of washbasin anywhere?. Most probably not. Why? That because this is new to market. It is like a single piece toilet. Washbasin and pedestal are not produced separately. They are produced in a single mould in sanitary ware manufacturing industry. So the design will look stunning. You will face fewer problems during fitting of washbasin because pedestal & washbasin are fused together during manufacturing itself. This washbasin will be costliest of all models. You can get wall mount and floor mount model of intergrated washbasin. Wall mount washbasin will be hlaf pedestal type and floor mount will be full pedestal type.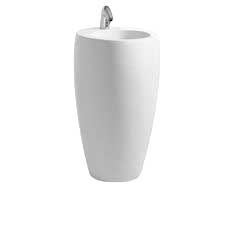 Wash basin with Pedestal:
This Model you must have seen around you. You will see a washbasin that is supported on a pedestal. These both are made by ceramic material only. Washbasin will have a rack bolt hole to fix it to the wall and Pedestal will be used to hide the water drain pipe. So if you are looking for open area then you can use this kind of washbasins which will hide the drain pipe line.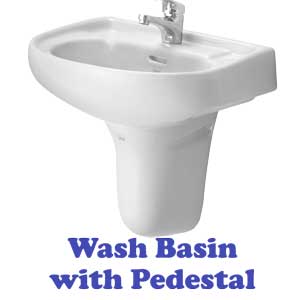 These Washbasins with pedestal have two different types:
Wash basin with Full pedestal.

Washbasin with Half pedestal.
Washbasin with full pedestal will be supported by Floor and the washbasin will be fixed in wall. Wash basins with Half pedestal will be fixed in the wall by rack bolt hole with screw.
Wall hung Wash basin type:
In this model you will get washbasin. There will be no pedestal. Washbasin will be fixed in wall by using screw. Normally this kind of wash basin will be small in size because high weight washbasin may not hang in the wall by the screw for long time. So these model washbasin are all always in small size and less in weight.

Corner Washbasin:
A Type of wash basin you will find in many hotel bathrooms. The fitting is same like wall hung wash basin. Due the design it is called as corner washbasin. It can be fixed only in the corner of room. The main advantage of this wash basins is it saves you lot of space in the room. Find the image below.
Table Top or Cabinet Wash basin:
From the name itself you must have found out what is table top or cabinet washbasin. This kind of washbasins will not have a rack bolt hole. The washbasin will have a flat surface in the bottom so that it will be kept in a flat surface like table or shelf. This wash basin can be available in various sizes from 400 mm to 1000mm.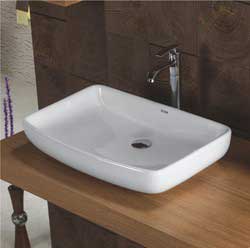 Sink:
Sink is a type of wash basin which is used in lab or Houses.Sink is a rectangular shape wash basin without tap hole. Depth of the sink will be available from 150mm to 500mm. Sink will not have a tap hole or a rack bolt hole in design. Here are two types of sink available. Now sinks are available in stainless steel.
Types of sinks:
Kitchen sink types (Big in size normally made using Fireclay body).

Lab sinks type (Small in size).
Counter Washbasin:
You will find this kind of washbasins in hotels. A bowl designed in circular / oval / square or rectangular shape with rim is known as counter wash basin. Counter washbasin rim are support on the slab with hole.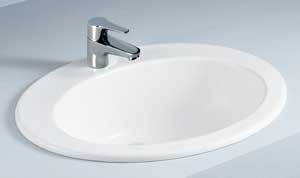 There are two Types of counter wash basin: Types of Counter Wash basin:
Under Counter washbasin.

Over Counter washbasin.
A simple understanding concept between the under and over counter washbasin is that if you can see the rim then it is under counter washbasin but if you cannot able to see the rim then it is over counter wash basin.
2 in 1 Washbasin
You have seen all the wash basins models above. But sometimes two features of washbasin are combined in design to get the best features. Some of the examples are given below,
Corner washbasin with flat surface to use it as a corner table top wash basin.
Table top washbasin with rack bolt hole to be used as a wall hung wash basin.
Classification of Ceramic Wash basin:
As you know that we are using ceramic wash basin. But have you know there are two types of ceramic materials used to produce the wash basin. Now we will see the two materials.
Vitreous china body.

Fire clay or Fine fire clay.
95% of washbasin are produced in sanitary ware industry are using vitreous china materials. But for Large washbasins fire clay body is used in production. This is because the fire clay body will have lesser percentage of shrinkage during production. A high thickness washbasin can be produced using fireclay body. the body made using fine fire clay will be much whiter than the vitreous china body.
Conclusion:
In this article, we have analyzed all possible types and Designs/models of washbasin you can find in the market. If you are looking to buy wash basin and still not able to decide which one you want to go comment below with your expectation and we will help you to choose one.