Bring the best wash basin design to your home. Wash basins are available in variety of designs in Indian market. Some of the wash basin designs are more attractive and elegant than the others. These wash basin designs can bring stylish looks to your home. Wash basins are not only used in bathrooms, Wash basins are used in kitchen and hall also. I believe in India we have more than 1000 Designs of wash basins model from different companies.
Some of the wash basin models have added advantages because of the designs.Wash basin comes in round shape design, square shape model, rectangular shape models, hexagonal designs and the shape you could imagine. And also washbasins designs can be fixed based on the model, you can hang the wash basin on the wall or you can make the washbasin stand on a pedestal or you can fix the wash basin on the tables or you can just mount on the floor like Single piece washbasin models. Wash basin also comes in different sizes you can get the size you want.
In this article we are going to see the trending wash basin designs in the Indian market and price of the product in Indian market. The price of the wash basin models may vary based on the brand, complexity of the design and etc… this list is not arranged in particular way, some may like one model compared to others. There are times a wash basin designs are patented and you can't   get the same wash basin design from the other manufacturers. Even now companies register their wash basin designs but other manufacturers makes minor design changes to the same design and release on the market to avoid patent issues.
The major reason for copying wash basin design is to keep the market share and attract as much as customer for their brand and increase sales. Even though sometimes manufacturers want to produce the wash basin models from competitors, may be they can't produce exactly the same because of the complexity of the washbasin design. Sometimes a manufacturer buys from different companies in India or import from other countries to supply the complex wash basin design to the buyers.
Now we can see the top best 10 Wash basin designs in India.
Duravit India – Handrinse Basin Cornet Model:
This wash basin design is produced by the Duravit. This design is different from the other corner wash basins. Normally the shape of the rim in the corner wash basin design will be round. But this wash basin model is designed flat 3 side rim. The corner basin saves space in the bathroom or kitchen and this basin can add a elegant look to your bathroom or kitchen. This model wash basin comes with overflow hole and tap platform. The wash basin will be glazed underneath also.
The size of this basin is 42.5 cm X 42.5 cm X 59.5 cm. This is a wall hung basin, can be fixed to the wall directly using bolt. This model is available in white color and can also be brought wondergliss. Wondergliss is a ceramic coating that looks more attractive, smooth and can be cleaned easily.
Somany Ceramics – Aria Table Top Wash Basin Design:
One of my favorite Games of thrones character name is Aria. This wash basin also named as aria. The Table top design looks cute and sleek, looks very nice. The size of this wash basin is 39.5 X 39.5 X 12.5 cm. The price of this wash basin model is 4,725* INR.
This Product is in there art basin series. If you are looking for a sleek and simple elegant basin design, then you can go for this wash basin model. This model comes in white color. Tap should be fitted outside the product, in the table or on the wall based on the faucet design you chose.
Jaquar – Arc Wall Hung Basin Design:
This wash basin design is the Arc collections of jaquar sanitary ware products. This basin is a wall hung model. The wash basin design looks like attached with the pedestal and the curved design of basin which you can't find anywhere else. You can get this basin in white color.
This basin have a tap hole and over flow hole and a drain of course. The price of the wash basin model is 22,590* INR. The size of the basin is 65 X 47.5 X 34.5 cm. You will get the fixing accessories et when you buy this wash basin.
American Standard – LuXus Integrated Wash Basin Model:
The name of this model is Luxus Floor standing vessel. One of the biggest model wash basin we discuss on this topic. It is a integrated pedestal with washbasin model. The tall standing wash basin size is 41.5 X 60 X 84.5 cm. This product comes in white color.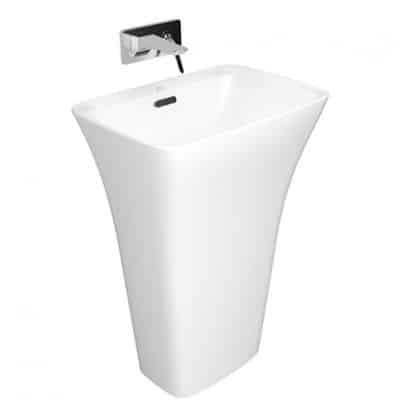 You can have the Faucets on the wall for this design. You can get 3 years warranty if use it for commercial space or 10 years warranty for residential place. The warranty is against any manufacturing defects and it covers only the ceramic part no other parts.
American Standard – la Moda Table Top Wash Basin design:
This is a table top wash basin that catches place on our best wash basin designs. A compact washbasin design with deep bowl area and with over flow hole. The tap should be fixed on the wall or the table where the wash basin is mounted because this wash basin does not have tap hole.
The size of the basin is 41.7 X 60 X 17.5 cm. This basin also available in only white color.
Queo Bathrooms F-Courbe- Basin with Pedestal Design:
This design form the Queo Bathrooms. The parent company is in UK. The price of this wash basin is 2,43,000* INR. The product is white. You can use a stand the install the water tap faucet or if you place the wash basin near to the wall you can install the faucet on the wall.
This product is in there fashion collection.
Hindware Pearl Counter Top Wash Basin Model:
This model of wash basin is supplied by hindware, one of the top sanitary ware manufacturers in India. This model is an over counter wash basin design. You can install this basin on a table.  This model is oval in shape and available in white & ivory colors.
The size of this wash basin is 41 X 33 X 14.5 cm. The price for the white color basin is 4381* INR. This model wash basin having deep bowl which will prevent splashing of water when using. This wash basin is on the hindware Italian collection.
Kohler Leaf Table Top Wash Basin Design:
This model is manufactured by Kohler, One of the luxurious sanitary ware manufacturer in the world. The design looks like a leaf that is floating on the water. The design looks stunning and it is also a table top basin.
The price of this washbasin India is 40,740* INR. The size is 60 X 38 X 18.5 cm. You get this model in white color. This wash basin design in made of fireclay body. And this design does not have faucet hole, you need to wall mount or floor mount the faucets. These designs have over flow hole.
Cera Charles Integrated Square Wash basin Design:
This wash basin model is supplied by Cera sanitary ware, India's top sanitary ware company. This is a complex design to manufacture, the size is big and the shape is square. The price of this product is 31,915* INR.
You get this product in white colour and the size of this product is 50 X 43.5 X 84. This product also comes with warranty against any manufacturing defects. This basin comes with the faucet or tap hole and with an over flow hole.
Cera Cafe duo Color Wash Basin Design:
Dual color wash basin from Cera Sanitaryware. If you want to match you home color with the basin then this will be your perfect choice. The wash basin is oval in shape and thin rim edges. It is a table top wash basin design.
This Duo color series contains multiple colors. The colors are orange, yellow, red and  blue. The size of this wash basin is 60 X 40 cm. The price range start from 9000 INR to 11,000 Based on the colours.
Conclusion:
We have seen the best moving washbasin designs in India. What basin design you like / Plan to buy. Leave your comment. Do you think any other company wash basin needs to come here, leave the product name on the comment we will try to add it.