Introduction:
Sanitary ware is a division of ceramic wares. It is proven that ceramic sanitaryware wares are cost-effective and useful for the long run. Sanitary wares can withstand more than 400 kg load and excellent resistance to chemical attacks. Sanitaryware items can be easily cleaned because of its glossy surface properties.
What is sanitary ware products?
Sanitaryware items are made up of ceramic ware used in bathrooms. Some of the sanitary ware products are
Toilets.
Pedestals.
Bidet.
Sinks.
Accessories like:
Soap holder/trays.
Ash trays.
Towel Rod.
Toilet paper holder.
And some other products are made by ceramics.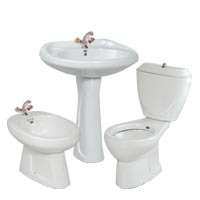 sanitary ware Meaning
Sanitary – Hygienic and Clean. Ware – Product / article
Sanitaryware Definition
Sanitaryware is a vitreous china body fired above 1200°C to get the required sanitary model to use for domestic and industrial purpose.
Properties
Some of the essential properties that are required for sanitaryware body.
Water absorption should be below 0.5%.
Can withstand a minimum of 400 Kgs load.
Good glossy surface for easy cleaning.
Sanitary Ware is made using three main components.

1) Clay
2) Quartz
3) Feldspar All these raw materials are mixed in a proper position, cast and fired to get the final sanitary ware product. Some of the Sanitaryware products are Washbasins, pedestals, Urinals, Wall hung, one-piece toilet, bathtubs and toilet tanks.
Sanitary ware is made in different colours as per the requirement. It can bear the heavy load and has good scratch resistance property.
Sanitary ware comes in a variety of designs and variety of shape and sizes.
To know more about sanitary ware production look at Sanitary ware manufacturing/production process. And also find the top sanitaryware brands in India.