We have listed ten essential and necessary points, which may help you before buying a Toilet for our home. The toilet is an essential part of our house, it is an essential thing used in our day to day life, and in most of the homes, the same toilet going to use for around 15 to 20 years. Always before selecting such an item, which is going to use for more years, it is better to look over the essential aspects such that it will give you a fulfilment while using it. Hence, before buying a toilet for our home, we have to think about these fundamental points like design, price, model etc. and then choose the right one, which suits our home in all aspects. While selecting a toilet each person may have a different point of view, this post has listed some of the primary points while choosing a toilet, which may help you in selecting a suitable and best one for your bathroom.
Let us now look at the basic and essential points, which have to be considered while selecting a toilet for your bathroom.

Design
The first point is the design of the toilet. Always when we go to buy a product, everyone notices the look/design of the toilet. Toilets are available in various designs. You can have a look at ten types of toilet link and get an idea about the designs of the toilets available at the market. By seeing the designs, you can choose a toilet design which you like and suits your bathroom.
Size
Next important point is the size of the toilet. Toilets are available in various sizes. The size of the toilet decided according to the size of the bathroom. You have to choose the size of the toilet, which goes well with your bathroom size. If you select a bigger size toilet for a small bathroom, you may face out of space problem, so choose the size of the toilet, which fits your bathroom well. Also, you have to decide the size of the toilet, which suits your body weight. We get toilets in many sizes, toilets, which are low in height and width, and large in height and width, are also available so you can select the size by your choice, which suits your bathroom space and your body weight.
Colour
When we come to Color, we can choose the colour of a toilet which matches your home wall colour. Nowadays we get toilets in various exciting colours. Also, there are many decorated. Designed toilets are available. When you choose a decorative toilet, you can buy as a set which comes as a pack containing Toilet and wash basin along with pedestal with the same design that gives a good and unique look to your bathroom.
Flushing Mechanism
The next point to be considered is the Flushing Mechanism. This Flushing Mechanism is another important aspect to be noted before buying a toilet. There are two types in flushing mechanism single flush and dual flush. Some toilets have a single flushing mechanism, and some have dual flushing mechanism. Single flush utilises more water at single-use. Always it's better to choose dual flush toilet while buying. The advantage of using a dual flushing mechanism is it saves water when compared to single flush models. Also, in the flushing mechanism, you can choose the internal flushing tank, which is called a Concealed tank. A concealed tank can be fixed inside the wall so that the tank is invisible and the tank can be connected to the toilet. Wall hung toilet can be used in this concealed tank. In the other flushing ways like a single piece and two-piece mechanisms, the tank will be placed in the upper level. By going through the details about the flushing mechanism, you can select a choice of yours which suits your bathroom.
Trap way
Next comes the Trap way; there are two types of Trap P-trap and S-trap. If your house is in ground level S- trap is suggested for your toilet because it is easy to connect the hatchtrap to the ground level. If the house is in upper level from the ground like if your home is on the first floor or above that, you can choose P-trap because it is connected to the wall. Hence, the trap can be selected according to the level of the bathroom from the ground level.
Functionality
We should also see the functionality of the toilet available before selecting. There are automatic and semi-automatic toilets available. We can choose our choice of the model required. The feature also includes the water closet, seat cover and the plastic tank. You can refer the post Types of toilet seat cover link and what is Water closet link and get an idea about the functionality of the toilet and make use of it while selecting a toilet for your home. This post would be more useful for you before choosing a toilet for your home.
Flushing Capacity (Water saving)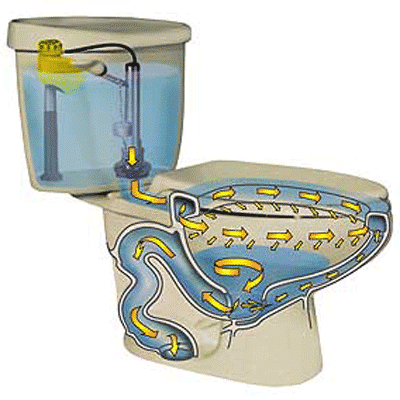 There are toilets available with all level of flushing capacity like there are flushing tanks uses 1 litre / 2 litre / 3 litre / 4 litre / 5 litre / and more water to flush your toilets. Nowadays water is a more important mania, which has to be saved for the future purpose. As the best choice keeping in your mind that you can select a water-saving flushing tank for your bathroom.
Price
An essential point to be noted is the Price of the Toilet because we can choose a toilet, which comes in our budget. There are many models with many facilities available from lower price till upper price, and you can select the best toilet which comes in your budget.
Brand
After going through all the above points, we can finally come to select the brand of the toilet. In ceramic, there are so many brands available. There will not be a significant variation among the brands, and most of the brands provide high strength products only. Hence, we have given the brand as the last point to be considered but even though if you wish you can go through the brands that provide toilet and select your choice of brand for your home.
Conclusion
By going through all the above factors, you would have got an idea to select the best choice of a toilet for your home. This post would help even for a person who has no idea about the Toilet. Now you would have earned a knowledge regarding the features of a toilet and can buy a new toilet with useful features for your bathroom. Hope you would have got used of this post, if you have any more queries put it in the comment box I will try to clear it as much as possible.